They told you the tax cuts were to return your money to you even though they were tax cuts for the wealthy.
Maybe you believed.
They told you tax cuts for the wealthy created jobs....Trickle Down they said.
Maybe you believed.
They told you deficits didn't matter.
Maybe you believed.
They told you nuclear energy was safe.
Did you believe? Did residents surrounding Fukishima believe?
Did they tell you nuclear energy was 100% taxpayer subsidized? Did they tell you the nuclear power plants are unprepared for Global Warming Extreme Weather?
What else did they tell you on Fox News?
Problems at Five Nuclear Plants - Hurricane Sandy
30 Oct 2012 The nation's oldest nuclear plant declared an alert and a second plant just 40 miles from New York City was forced to shut down power as five different nuke plants in Hurricane Sandy's path experienced problems during the storm. Indian Point in Buchanan, New York, on the Hudson River north of New York City, automatically shut power to its unit 3 on Monday night "as a result of an electrical grid disturbance," according to Entergy, the plant's operator... Operators also declared an alert at the nation's oldest nuclear plant, Oyster Creek in Lacey Township, New Jersey, on Monday evening after the center of Sandy made landfall, "due to water exceeding certain high water level criteria in the plant's water intake structure." The plant also lost power, which is critical to keep spent fuel rods from overheating, but "the station's two backup diesel generators activated immediately," Exelon said.
NJ nuclear plant on alert as state struggles to cope with Sandy's surge
30 Oct 2012 America's oldest nuclear power plant is on alert after waters from a colossal storm reached high levels. Oyster Creek in Lacey Township, New Jersey, was already offline for regular maintenance before Sandy, a superstorm downgraded Monday night from a hurricane, slammed the East Coast. The Nuclear Regulatory Commission says an "unusual event" was declared around 7 p.m. when water reached a high level. The situation was upgraded less than two hours later to an "alert," the second-lowest in a four-tiered warning system.
Japan-Style Nuclear Safety Errors Abound, Regulator Warns
30 Oct 2012 Japan's nuclear safety failures that led to last year's disaster at Fukushima are being repeated in other countries that operate atomic reactors, according to France's top regulator. Nuclear safety focuses too much on technology and not enough on the human side of preventing accidents, Andre-Claude Lacoste, 70, the outgoing head of the French Autorite de Surete Nucleaire, said in an interview. Regulators in some countries, which he declined to name, lack enough independence from industry and government to be able to identify nuclear safety shortfalls, Lacoste said.
Sandy's mammoth wake: 46 dead, millions without power, transit
--Storm's impact to widen as it disperses north to Canada, south to Tennessee 31 Oct 2012 The sweep of devastation from Superstorm Sandy became heartbreakingly clear Tuesday: At least 46 people are dead, and authorities face the unimaginable task of restoring power and transit for millions of others. "We have not seen damage like this in a generation," New York Gov. Andrew Cuomo, assessing the scope of a hurricane that swept homes into the ocean, flooded large swaths of coastal areas, left millions of people without power and crippled transportation, told NBC News.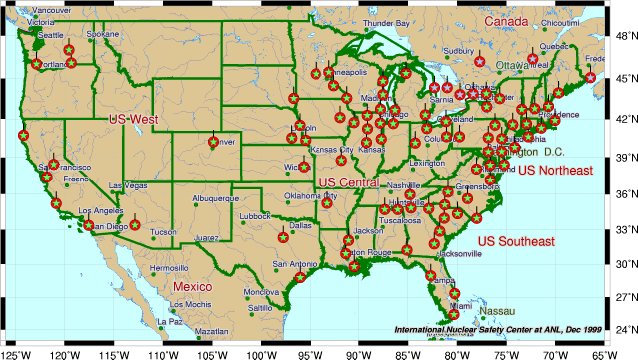 First an electricity blackout and now CELL PHONE coverage is down as users in Manhattan battle signal failures
--Many people are virtually cut off and have no way of calling for help if there are further emergencies 30 Oct 2012 Thousands of people in Manhattan woke to find they had no cell phone coverage this morning after Superstorm Sandy battered the city's phone masts. Cell phone users in large swathes of Lower Manhattan suffered the signal failures after 24 hours of devastating weather. For many it means they are virtually cut off and have no way of contacting friends or family or calling for help if there are further emergencies.
Transformer explosion at 14th St Con Edison building
30 Oct 2012 A transformer reportedly exploded last night as Hurricane Sandy slammed the city, shortly before power was lost throughout much of lower Manhattan. A power failure struck the Con Edison command center near Union Square around 8pm, according to the Wall Street Journal, following a substation failure that is reportedly responsible for loss of power in Greenwich Village and Lower Manhattan. Con Ed had preemptively cut power to residents south of the Brooklyn Bridge in Manhattan to protect underground equipment from water damage, in a move described as unprecedented.