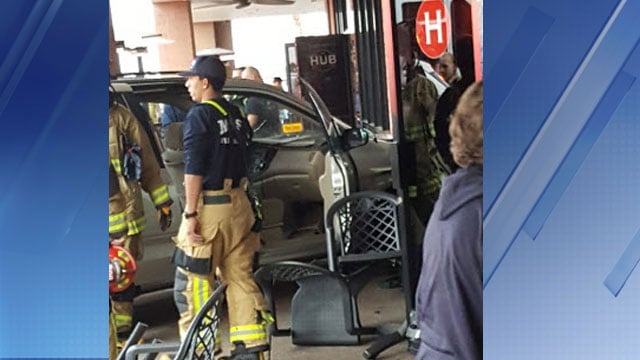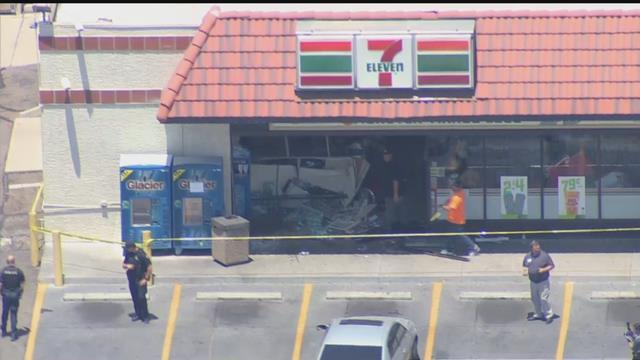 'Elderly' woman crashed car into Mesa 7-Eleven
Posted: Jul 14, 2017
By Catherine Holland
MESA, AZ (3TV/CBS 5) -
A car crashed into the 7-Eleven at Main Street and Gilbert Road in Mesa Friday afternoon.
The driver was described by police as an "elderly female." She was taken to the hospital as a precaution. No other information about her was immediately available.
Capt. Ken Hall of the Mesa Fire and Medical Department said the woman was parked outside the store when she "mistakenly pressed the gas and went through the front doors of the store."
Hall said she was wearing her seat belt and did not appear to be injured.
Nobody inside the convenience store was hurt.
Nik Rasheta of the Mesa Police Department said investigators are working to piece together the moments leading up to the accident to determine exactly how it happened.
Vehicle into 7 Eleven at 2010 e Main st. Fortunately there were no injuries. MFMD Paramedics working with MPD to ensure scene safety.
http://www.azfamily.com/story/35888898/elderly-woman-crashed-car-into-mesa-7-eleven




2012 TOYOTA AVALON Vehicle Speed Control Problems
-------------------------------------------------------------------------
Jun 05, 2014 - Canton, MA - Vehicle Speed Control
TL* THE CONTACT OWNS A 2012 TOYOTA AVALON . THE CONTACT STATED WHEN SHE CAME TO A SUDDEN STOP SHE WAS CRASHED INTO FROM THE
REAR BY ANOTHER VEHICLE. THE ENGINE RPMS THEN INCREASED AND THE VEHICLE ACCELERATED INDEPENDENTLY.

THE CONTACT HAD TO USE
THE EMERGENCY BRAKE TO STOP THE VEHICLE AS THE SERVICE BRAKES FAILED. THERE WERE NO INJURIES. A POLICE REPORT WAS FILED OF THE
INCIDENT. THE VEHICLE WAS DESTROYED. THE VEHICLE WAS TOWED TO AN INDEPENDENT MECHANIC. THE MANUFACTURER WAS NOTIFIED OF THE
FAILURE. THE APPROXIMATE FAILURE MILEAGE WAS 19,000.
-------------------------------------------------------------------------
May 28, 2014 - Canton , MA - Vehicle Speed Control
TL* THE CONTACT OWNS A 2012 TOYOTA AVALON. THE CONTACT STATED THAT WHILE AT A COMPLETE STOP, ANOTHER VEHICLE CRASHED INTO THE
REAR OF THE CONTACT'S VEHICLE, CAUSING THE CONTACT TO CRASH INTO ANOTHER VEHICLE. THE CONTACT STATED THAT AFTER THE CRASH, THE
VEHICLE ACCELERATED WHILE THE BRAKE PEDAL WAS BEING DEPRESSED

. THE EMERGENCY BRAKE WAS ENGAGED AND THE VEHICLE CRASHED
INTO A CURB. THE AIR BAGS FAILED TO DEPLOY. THE FRONT PASSENGER STRUCK THEIR HEAD ON THE DASHBOARD. THE POLICE WERE PRESENT.
THE MANUFACTURER WAS NOT MADE AWARE OF THE FAILURE. THE VEHICLE WAS NOT REPAIRED. THE FAILURE AND THE CURRENT MILEAGE WAS
2005 – 2012 TOYOTA AVALON Vehicle Speed Control Problems

(as of: 14 Jul 2017)