The greatness of a nation can be judged by the way its animals are treated.
Mahatma Gandhi
"A decent provision for the poor is the true test of civilization."
~Samuel Johnson, Boswell: Life of Johnson
http://i.huffpost.com/gadgets/slideshows/11167/slide_11...
"...the moral test of government is how that government treats those who are in the dawn of life, the children; those who are in the twilight of life, the elderly; those who are in the shadows of life; the sick, the needy and the handicapped. " ~ Last Speech of Hubert H. Humphrey
"A nation's greatness is measured by how it treats its weakest members."
~ Mahatma Ghandi
"The measure of a society is found in how they treat their weakest and most helpless citizens. As Americans, we are blessed with circumstances that protect our human rights and our religious freedom, but for many people around the world, deprivation and persecution have become a way of life."
~James Earl "Jimmy" Carter, Jr.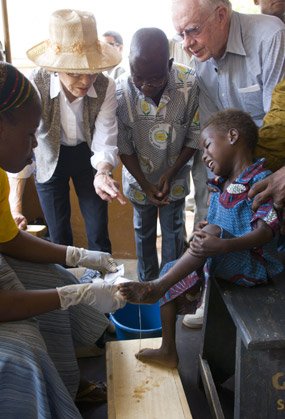 http://t3.gstatic.com/images?q=tbn:ANd9GcTi22nj4z5Y76ZE...
Gajraj's tusks were chopped off, all his feet are cracked, he suffers from multiple painful abscesses, and shackles injure his ankles when he tries to free himself from this living hell. Now, he's succumbing to his illnesses and injuries, and his custodian has left him to die alone in chains.
The U.S. Coast Guard just made history by becoming the first branch of the U.S. military to suspend the shooting, stabbing, and killing of animals in trauma training drills, following pressure from PETA and Congress. Also, in response to a four-year campaign by PETA and PETA Australia, the Royal Australasian College of Surgeons
decided to use advanced human-simulation technology
instead
of animals in its national trauma training program. Read and share this historic news, and take action to help other animals.
The horrific Canadian commercial seal slaughter has been going on for weeks. Thousands of helpless young seals have already been killed—shot or bludgeoned to death with crude hooked clubs—and many thousands more may die in the days to come. Take a stand against this horrific cruelty and pitch in with a gift today.



Five dogs died in less than a week during the 2017 Iditarod, and more than 150 dogs have been killed in the history of the race. Why are companies stillsponsoring such a cruel spectacle?
Countless horses suffer from heatstroke, are forced to work with debilitating leg problems, or have collapsed and died on the streets—urge the mayor of Charleston, South Carolina, to join cities like Key West, Florida, and Salt Lake City by banning horse-drawn carriages immediately.
Tell Furla that decorating a handbag with the fur of animals who spent their entire lives confined to a filthy cage before finally being beaten, electrocuted, gassed, or skinned alive is not OK.
It turns out that there's just too much evidence for a scientist (or anyone else) to ignore when it comes to the devastating effects of animal agriculture on the planet.
It's World Week for Animals in Laboratories, so we decided to share some side-by-side photos that show how Texas A&M University treats its beloved dog mascot by comparison with the dogs used for the university's cruel experiments.
Less than three months after PETA urged SeaWorld in vain not to separate polar bears Szenja and Snowflake, one of the bears has died. It's clear that animals suffer at SeaWorld—tell the park to stop opening new animal prisons around the world.
Whether you are a teacher or a parent or just want to learn how we can all help animals, this video and lesson plan will show every kid how to share the world with animals.
URGENT ACTION NEEDED
TOP PICKS FROM PETA CATALOG