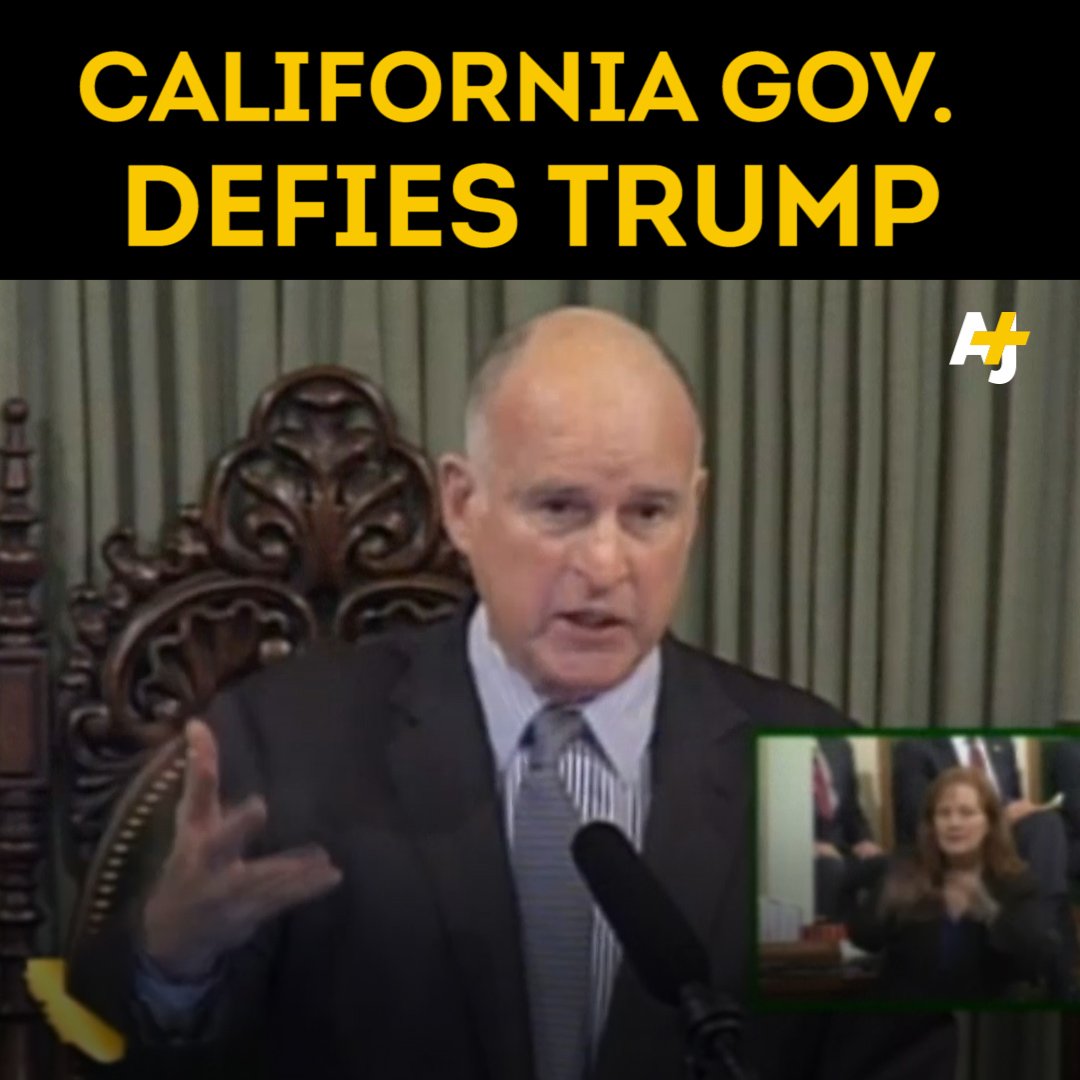 Again!
Donald Trump went to some rather bizarre efforts to make his announcement in the Rose Garden that the United States will be pulling out of the Paris climate agreement seem like a celebratory moment.
Many foreign leaders from allied countries, as well as heads of numerous major corporations within the U.S., expressed disagreement and disappointment, and vowed to continue the crucial work of combating climate change and saving the environment in which we and future generations have to live.
And they were joined in their condemnation by many politicians across the country. Most notably, the governors of New York, Washington, and California issued
a bold statement
, lambasting Trump's move as "reckless," and announcing that they would form a "United States Climate Alliance" to persevere with this work, sans the White House.
And one of those governors — Democrat Jerry Brown of California — laid out his plans in detail, and made even clearer his determination to continue the
forward-looking environmental path
on which his state has led the way for many years.
As Brown told MSNBC's Ari Melber, California will not be dissuaded from this work by Trump's "misguided action," which he believes will serve to "galvanize the people … of the whole world."
MELBER: How are you going to combat this move from President Trump?

BROWN: Stay the course. California has a very imaginative and aggressive climate action policy. We have a goal of 50 percent renewable electricity by 2030. We're already about 27 percent now, and we'll even go beyond that. We have zero emission mandates for automobiles. We have energy and appliance regulatory standards. We also have a cap-and-trade program. So, we're all in, in decarbonizing our economy.

And, of course I have to admit we've got a long, long way to go. But we're moving in that direction, and the economy has rewarded these policies with growth 40 percent faster than the national average — 2.3 million jobs just since the last recession. So, we're on the move. We'll keep going.

And more specific action — I'm leaving tomorrow for China. I'll meet with high officials there to forge new China-California climate agreements. I'll also work with New York and Washington and several other states in what I call the Under Two Coalition: A group of 175 different partners — Canada, Mexico, Quebec, New York, Massachusetts, California — representing a billion people and almost 30 percent of the world's economic output. We are agreed on a climate set of goals, very similar to the Paris agreement. And we are moving forward and we'll continue. And I would say this action, very misguided action by President Trump, will act as a catalyst to galvanize the people of California and, I would say, of the whole world to do the right thing in getting us on the path of sustainability.
Brown went on to discuss further possibility of direct foreign policy actions that California can take, particularly with China. He noted that his state — currently the
sixth-largest economy
in the world, behind only the U.S., China, Japan, Germany, and the United Kingdom — has "as much clean-tech capital investment" as China and Europe combined.
He added that, with Trump's decision, China is now the sole pillar in this area, and that California will be working with China, in defiance of the Trump administration, to "achieve our mutual goals."
http://realtimepolitics.com/2017/06/03/ca-governor-brown-president-trump/?utm_campaign=PL&utm_source=PL&utm_medium=FB